Program:
Dominique Bourg, Professor at the University of Lausanne, Institute of Geography and Sustainability (IGD), Faculty of Geosciences and Environment. He will present his book Integral Ecology: For a Permacircular Society
Summary: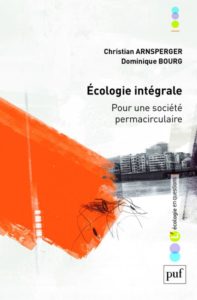 The global digital transition is accelerating as the ecological transition, at best, is stalling. This situation will not be sustainable for long. It is important to give ourselves as soon as possible a collective goal that corresponds finally to what is required by the state of degradation of the Earth system.
How to reconcile a radically reduced ecological footprint with the current plurality of our societies and their economic fabric? The answer is on the side of a permacircular economy: the strict respect of the planetary limits requires, for the rich countries, circular metabolisms, but also a clear reduction of the material substrate of their activities – thus a decrease – and an opening to the the widest possible technological and social experimentation.
This book proposes a detailed political and ethical framework aimed at progressively building, in the respect of modern pluralism, an authentically sustainable economy.
Christian Arnsperger is an economist and professor at the University of Lausanne, at the Institute of Geography and Sustainability. He is also scientific advisor of the Swiss alternative bank.
Dominique Bourg is a philosopher and professor at the University of Lausanne. He co-directed, with Alain Papaux, the Dictionary of Ecological Thought (Puf), and directed the collection "Ecology in Questions" and the online journal Ecological Thought. He also chairs the scientific council of the Nicolas Hulot Foundation.
Registrations open soon
If you wish to receive FLM's invitations, to present your works or to unsubscribe from the mailing list, do not hesitate to contact this address: flm@ChaireEconomieduClimat.org
Climate Economics Chair
Palais Brongniart, 28 Place de la Bourse – 75 002 Paris
FLM- Seminar Room – 4th Floor (12.30 pm – 2 pm)