We regret to announce the cancellation of the FLM research of March 20 with Johanna Choumert-Nkolo-Nkolo. The event is however postponed to a later date, we will keep you informed via our newsletter and on our website of the precise date as soon as possible.
Thank you for your understanding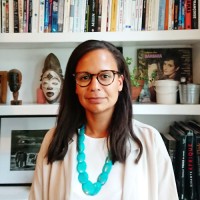 Speaker
Johanna Choumert-Nkolo,Head of Research at EDI Global
Title 
Internal Migration and Energy Poverty in South Africa
Authors: Johanna Choumert-Nkolo and Leonard Le Roux (University of Cape Town)
Abstract
Despite recent progress, energy poverty remains pervasive is Sub-Saharan Africa. Rapid urbanization adds on a significant challenge to often under-capacitated local authorities that struggle to provide services to new urban dwellers. In the case of South Africa and other SSA countries, this has resulted in a proliferation of under-serviced informal urban settlements on the urban periphery, where a lack of energy access is compounded with a lack of access to other services and job-opportunities to result in sites of concentrated and multidimensional deprivation. As such, it is not immediately clear that rural-urban migration results in reductions in energy poverty for migrants. In this paper, we present the first analysis of the relationship between rural-urban migration and energy poverty in South Africa, and to our knowledge in Africa, using a nationally representative panel dataset. Using a difference in differences approach, we are able to follow the energy access of both migrants and non-migrants over a 10-year period. We find that rural-urban migration results in almost immediate reductions in energy poverty for migrants themselves, with especially dramatic reductions in the use of traditional cooking fuels. However, the additional gains that result from migration to informal urban settlements are modest, given the pace of change that is also taking place in rural areas in South Africa, especially in the case of grid access and access to electrical appliances. 
If you wish to receive invitations to FLMs, present your works or unsubscribe from the mailing list please feel free to contact this address: 
flm@ChaireEconomieduClimat.org
Chaire Economie du Climat
Palais Brongniart, 28 Place de la bourse – 75 002 Paris
FLM- Salle du Séminaire – 4è étage (12.30 pm – 2 pm)