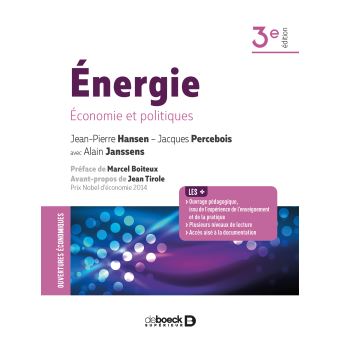 3rd edition (May 2019), Energie Économie et politiques from Jean-Pierre Hansen and Jacques Percebois with Alain Janssens, , Publisher De Boeck Superior Collection Economic Openings pages 736
Cette nouvelle édition dresse un bilan des nombreux changements que connaît le secteur de l'énergie dans son ensemble. Elle fournit des données économiques et institutionnelles et propose des analyses des politiques menées de par le monde.
Les changements technologiques, les rapports de force entre pays, le comportement des acteurs, les décisions politiques mettant le marché au cœur de toutes les réformes, autant de déterminants majeurs qui ont bouleversé les fondamentaux mêmes de ces activités.
Comment les prix se forment-ils sur ces différents marchés ? Comment tenir compte des deux dimensions de l'énergie : des biens stratégiques mais aussi de service public ? Ce qui vaut pour une énergie est-il pertinent pour les autres ? Le marché peut-il toujours se substituer à la planification et à quelles conditions ? Quels sont les liens entre énergie et environnement ?
Voilà quelques questions, parmi beaucoup d'autres, auxquelles cet ouvrage, dans sa 3e édition actualisée, apporte des réponses.
Il dresse, pour la première fois, un bilan de ces changements, basé sur une analyse économique rigoureuse des secteurs et du « bien-énergie » dans son ensemble. Il fournit également de nombreuses données chiffrées et institutionnelles, présentées de manière synthétique et propose des analyses critiques des politiques menées en Europe et dans le monde.
Si la démarche est d'abord méthodologique, le texte fournit également de nombreux exemples de situations pratiques observées et des études de cas.
Ce livre peut satisfaire un large public : étudiants ingénieurs, en licence ou maîtrise d'économie ou de sciences politiques, responsables et observateurs de l'industrie de l'énergie et de l'économie.
Ecrit de manière pédagogique et issu de l'expérience de l'enseignement et de la pratique, il présente en encadré les aspects plus formels ou théoriques et en tableaux de synthèse les grandes données historiques, ce qui permet plusieurs niveaux de lecture et un accès aisé à la documentation.