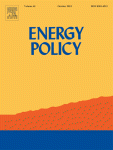 Editorial publication « Energy and environment: Transition models and new policy challenges in the post Paris Agreement » by Anna Creti and Duc Khuong Nguyen in Energy Policy review.
https://doi.org/10.1016/j.enpol.2018.07.048
The last two years have been marked by the progressive implementation of energy transition and the ratification of the Paris agreement against climate change. However, together with these rapid changes, we also face some problems including, among the others, major uncertainties in energy and commodity prices, low-carbon prices, tensions between renewable energy deployment and network investments, changes in electricity and gas market designs, and the increase of energy consumption in emerging countries.
The Special Issue "Energy and Environment: Transition Models and New Policy Challenges in the Post Paris Agreement" associated with the 5th International Symposium on Environment and Energy Finance Issues (ISEFI-2017) illustrate these dynamics and ongoing transformations.
The thematic collection of high-quality papers with sound policy implications, accepted and included in this Special Issue, greatly contributes to:
1. Financial effects of the Paris Agreement on energy risk management and the future development of fossil fuel industry
2. Energy transition towards renewable energies together with new transportation modes, energy efficiency and a transformation of the electricity sector
3. Policy measures for addressing climate change and carbon regulation
Find the editorial on Energy Policy website