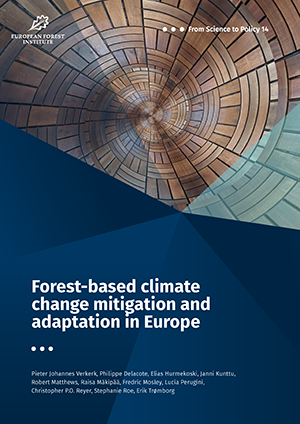 Article publication Forest-based climate change mitigation and adaptation in Europe by Pieter Johannes Verkerk, Philippe Delacote, Elias Hurmekoski, Janni Kunttu, Robert Matthews, Raisa Mäkipää, Fredric Mosley, Lucia Perugini, Christopher P.O. Reyer, Stephanie Roe and Erik Trømborg in the EFI review.
ISBN: 978-952-7426-22-7
DOI: https://doi.org/10.36333/fs14
Forests and forestry play a key role in policy targets to achieve climate neutrality. In a comprehensive new European Forest Institute study, a multidisciplinary team of 12 authors from 7 countries have analysed how much forests and wood use can contribute to climate change mitigation, and how that contribution can be maximised.