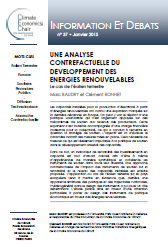 Renewable electricity, security of supply and capacity mechanism. A comparison of proposals made in France and Germany.
(in French only)
par Tiphanie Fontaine
La production d'électricité en France et en Allemagne tend à évoluer vers plus d'énergies renouvelables qui sont par nature intermittentes. Les nouvelles réglementations environnementales et la fin de vie de certaines centrales vieillissantes laissent entrevoir des fermetures d'installations dans les prochaines années, notamment celles fortement modulables utilisées pour assumer les périodes de pointe et combler l'intermittence des énergies renouvelables. Par ailleurs, la demande totale d'électricité devient de plus en plus stagnante, alors que la demande de pointe en France ne cesse de croître. Enfin, le marché Energy-Only, marché actuel d'échange de l'électricité, ne donne parfois pas un prix permettant de couvrir les coûts fixes des moyens de production. Tous ces éléments augmentent le risque de pénurie d'électricité en période de pointe de consommation.
Garantir la sécurité d'approvisionnement demande d'assurer une meilleure rentabilité des moyens de production, utilisés en pointe et lors des périodes de carence des énergies renouvelables. La France a alors décidé de mettre en place un marché de capacité. Celui-ci impose aux fournisseurs d'acquérir par rémunération, auprès des producteurs d'électricité et des consommateurs effacés, un certain niveau de capacité permettant de combler la demande de leurs clients lors des pointes. Mais d'autres solutions sont également envisagées par d'autres pays, comme l'Allemagne qui émet des doutes quant à l'intérêt d'ajouter des mécanismes en plus du marché de l'électricité actuel et propose plutôt l'optimisation de ce dernier.