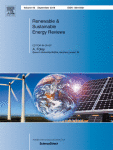 Article publication « Interactions between electric mobility and photovoltaic generation: A review » by Quentin Hoarau and Yannick Perez in Renewable and Sustainable Energy Reviews.
Volume 94, October 2018, Pages 510–522
https://doi.org/10.1016/j.rser.2018.06.039
Photovoltaic generation and electric mobility are disruptive technologies in the power and transport sectors, and both pose challenges for power grids.
The scholarship has focused on potential synergies when these two technologies are combined, and recent research shows that interactions between photovoltaic generation and electric mobility could decrease the overall burden on power grids, and empower one technology with the other's specificities.
Electric vehicles (EV) could use photovoltaic energy (PV) and benefit from cheap carbon-free electricity for charging. In return, PV systems could use the bi-directional flexibility of EV batteries to maximize their self-consumption.
As these synergies operate, economic spillovers from these technologies are expected to improve, thus further leveraging their joint deployment.