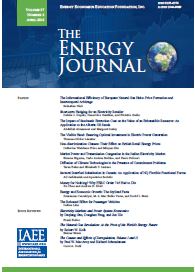 Article publication « On the CO2 Emissions Determinants During the EU ETS Phases I and II: A Plant-level Analysis Merging the EUTL and Platts Power Data » by Benoît Chèze, Julien Chevallier, Nicolas Berghmans and Emilie Alberola in The Energy Journal review.
2020 Vol. 41 n°4 – pp.153-184 
This article studies ex-post the CO2 emissions determinants during 2005–2012 by resorting to an original database merging the European Union Transaction Log (EUTL) with the World Electric Power Plants (WEPP) database maintained by Platts. We estimate the main drivers of CO2 emissions for the 1,453 power plants included in the EU ETS using plant-level panel data. During phases I and II, there has been a debate about whether the economic crisis was ultimately the only factor behind the fall in CO2 emissions. We find that the EU ETS kept some degree of effectiveness but only during phase I (2005–07). During phase II (2008–12), its impact has been largely impeded by the deep economic recession in 2008–2009 which became the leading cause of the emissions reduction. We disentangle the analysis not only by periods but also for each type of power plants. We conclude that the EU Commission's flagship climate policy could and should be enhanced by better coordination of overlapping climate policies.