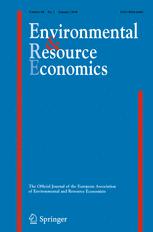 Article publication Transitional Restricted Linkage Between Emissions Trading Schemes by Simon Quemin and Christian de Perthuis in Environmental and Resources Economics review.
Volume 71, December 2018, Pages 1-32 
DOIhttps://doi.org/10.1007/s10640-018-00307-6
JEL Classification : Q58 H23 F15 
Linkages between Emissions Trading Systems are deemed an important element of the future climate policy landscape. They are, however, difficult to agree and remain few and far between. Temporary restrictions on permit trading have potential to facilitate and gradually approach unrestricted, full linkage. We compare the relative merits of several link restrictions in this respect, namely quantitative transfer limits, border taxes on transfers, exchange and discount rates, and unilateral linkage.
To this end, we develop a simple model to have a unifying framework which, in conjunction with lessons we draw from real-world experiences, serves as a basis for a broader, policy-oriented discussion. While quantitative restrictions seem to be the natural route to full linkage, they can lead to uncertain distributional effects and weaken price signals. These aspects are mitigated under a border permit tax, but this policy seems harder to implement. Exchange rates have potential to adjust for programmes' stringencies and raise ambition over time, but can be challenging to select. As experience corroborates, unilateral linkage can be a convenient approach.