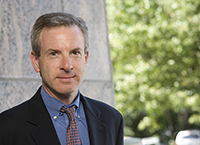 Speaker
Jonathan Wiener, Professor of Law and Public and Environmental Policy at Duke University and Associate Researcher at Resources for the Future (RFF).
Title 
Climate Policy in the American Legal System
Brief abstract
In the United States, climate change policy may be shaped not only by the Congress and by executive agencies such as US EPA, but also by judicial decisions. This presentation will discuss the prospects for important cases unfolding in the American courts, notably the 'Juliana' case brought on behalf of children to press the US government to take more action on climate change, and the likely challenges to the new US EPA rules on greenhouse gas emissions from electric power (the new Trump Administration ACE rule to replace the Obama Administration CPP) and from vehicles (the Trump Administration SAFE rule to revise the Obama Administration CAFE rule).
If you wish to receive invitations to FLMs, present your works or unsubscribe from the mailing list please feel free to contact this address: 
flm@ChaireEconomieduClimat.org
Chaire Economie du Climat
Palais Brongniart, 28 Place de la bourse – 75 002 Paris
FLM- Salle du Séminaire – 4è étage (12.30 pm – 2 pm)