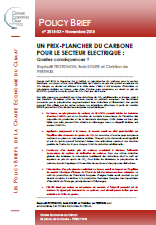 Smog alert in Paris on March 12 : which public policies for which effects ?
by : Alain Ayong Le Kama, Hakim Hammadou, Bénédicte Meurisse, Claire Papaix
Abstract : 
On March 12, the fine particulate matters exposure indicatorexceeded the safe level of 100 micrograms per cubic meter in the Paris region. On the third day, to cope with the pollution peak, the French government, the Region Ile-de-France and the municipality of Paris introduced special measures. They included free access to public transportation and alternate driving based on an odd/even license plate scheme.