You can watch The FLM via the tool Zoom here
(paramètres/sous-titres/traduire automatiquement)
Speaker
Olivier Fontan, Executive Director of the High Council for the Climat
Title
Annual report Carbon neutrality 2020: "Straightening the course, relaunching the transition"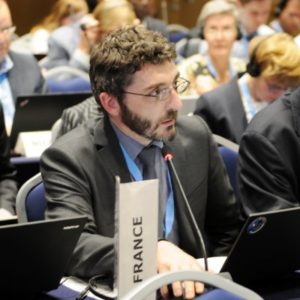 Abstract
The second annual Carbon Neutrality report of the High Council for the Climate was prepared under specific conditions. Influenced by the health crisis and its economic and social impacts, it is published in the context of a change of government, which intends to accelerate on environmental priorities. Clear expectations are formulated in society, by all generations and across the country, in terms of solidarity in the face of risks and actions favorable to the environment.
The new government inherits the responsibility of managing and emerging from successive health, economic and social crises towards a society and economy that are less vulnerable, better adapted and more resilient to external shocks. Global warming induced by human activities continues to worsen, while France's climate actions are not up to the challenges or the objectives it has set for itself. The government must resume the course towards carbon neutrality. The recovery planned by the government after the crisis must first be that of the transition that allows compliance with the carbon budgets defined by law. There are few deficits that states cannot afford to ignore: the carbon deficit is one of them. It does not repay itself across our generations, and its interest is paid on our living conditions.
Our annual report shows that this framework is compatible with legitimate employment or health concerns. This transition is possible, useful and inevitable. It involves firm and transversal inter-ministerial management with the national low-carbon strategy as a reference. It calls for improving the accountability of the State, in particular through the objective evaluation and strengthening of its public policies. Under these conditions, the French population will appropriate climate policies, their constraints and their benefits. In addition, the need to be associated with decisions and their implementation is at the heart of the positive response to the Citizen's Climate Convention. This is also the reason why the High Council for the Climate wanted this year to pay particular attention to the challenges of the just transition and to help advance the debate on the subject, in these times of democratic choices.
The medium and long-term impact of the decisions that will be taken in the coming months should not be underestimated. It places a particular responsibility on the public and private leaders who will have to decide. The High Council for the Climate makes its work available to help them.
If you wish to receive invitations to the FLM, present your works or unsubscribe from the mailing list, do not hesitate to contact this address:
flm@ChaireEconomieduClimat.org
The Friday Lunch Meeting will be in french and will take place via the tool Zoom.
The link will be communicated once your complete registration
12:30 pm – 14:00 pm